Domestic

Oil and Fuel Tank Replacement Services
DOMESTIC OIL AND FUEL TANK REPLACEMENT
We offer a full, in house service for oil tank replacement, including disposal of your existing oil tank, to installing new, covering the whole Yorkshire area.
If your heating system has failed or your oil tank has simply become unsightly, we can offer you an oil tank replacement solution with minimal fuss and disruption to you.
We can ensure that any oil tank replacement is installed in line with current building and environmental regulations. Every new oil tank is installed with a six year warranty, backed by OFTEC, to ensure you have peace of mind.
Any tank disposal is also carried out in line with hazardous waste regulations, and you will receive a certificate of decommissioning for your old tank.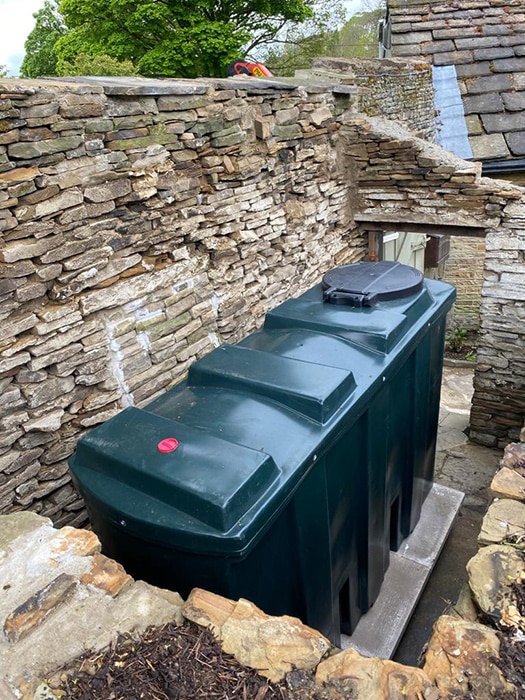 WHY CHOOSE US FOR YOUR OIL AND FUEL TANK REPLACEMENT?
For over 40 years we have been offering safe, reliable and cost effective petrol or diesel tank cleaning, oil tank cleaning, oil, diesel and petrol tank removal and tank disposal nationwide. Attracting a wide spectrum of clients from The Armed Services and Local Authorities, to the Construction Industry, Independent Petroleum Retailers and Domestic Households.
Following an initial enquiry, one of our OFTEC registered engineers will conduct a free fire and environmental risk assessment on your tank. Providing it passes the relevant inspection, a like for like tank could be installed. If however any issues are highlighted e.g. if your tank is within 1800mm of a non fire rated eves of a building, then other arrangements would have to be made in order to make your new tank compliant.
It is more than likely that your tank exchange would be completed within a day. However if alterations need to be made e.g. a new base laid, we would carry out the preparatory work prior to disconnecting your tank. We always aim to reduce inconvenience to a minimum and would work closely with you to ensure your requirements are met.
Yes. All tanks supplied by JWH Tanks come with a standard manufacturers warranty, along with a six year workmanship warranty, backed by OFTEC. Your installation would be registered with OFTEC to ensure that it meets local building regulations.