Commercial

Oil and Fuel Tank Removal Service
COMMERCIAL OIL & FUEL TANK REMOVAL
Tank removal is very much at the heart of our operation. We can offer tank removal services to commercial customers across the country.
As with any of our services, a tank removal quote will be tailored to your requirements, as no two jobs are the same. Please see the below section on obtaining a quotation.
We can safely and efficiently remove large scale fuel and oil tanks from basements, excavate underground tanks, lift and transport above ground tanks, through to small workshop tanks.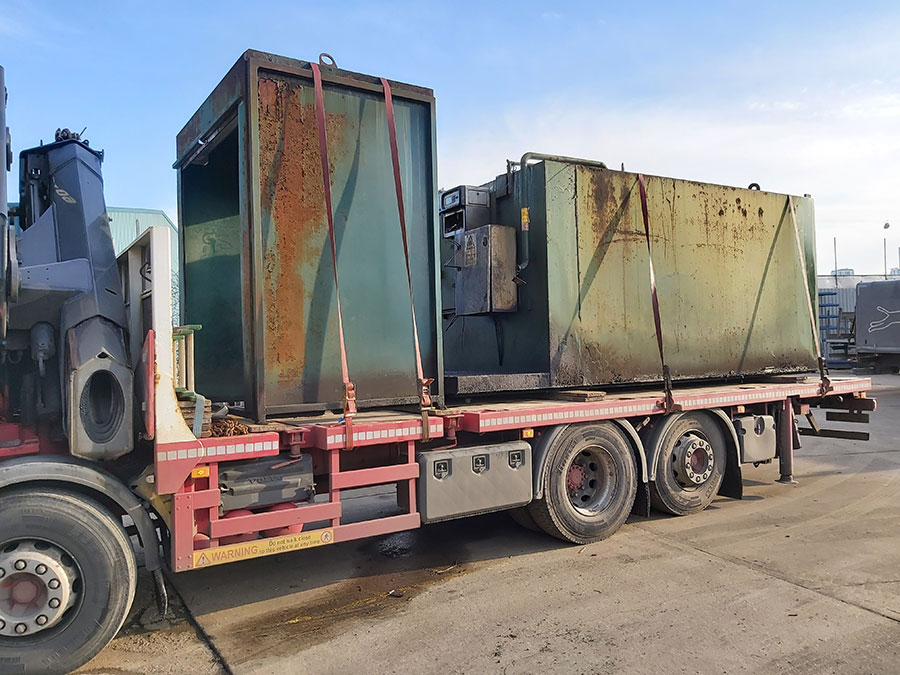 In order for us to provide a quotation, we simply need to gather a few pieces of information to allow us to assess your tank removal needs. Of course, please feel free to make an initial call as we can often give you a budget figure based on our experience.
With that information, we can gain an immediate picture of your requirements, and often get a quotation back to you very quickly. The quotation will set out the work required to remove your tank, along with details of any documentation that we'll issue to you, authorities that will be notified by us and caveats that may be required.
With a safe system of work in place and the correct equipment, we can carry out your tank removal safely and efficiently, often with minimal disruption to businesses or households and always with a great end result. Every tank removal job is different, that is why we'll produce a tailored proposal and safe system of work to suit your needs.
All of our work is carried out by our own in-house team, we never subcontract our work and one of our team will be there to answer your questions both before, during and after the tank removal process.
If you would like to discuss your tank removal requirements with one of our experienced engineers, please feel free to call us on 01132 635163, email info@jwhtanks.co.uk or fill out our enquiry form here.
COMMERCIAL OIL AND FUEL TANK REMOVAL
Our commercial oil and fuel tank removal services for above ground tanks can accommodate just about any requirement, from fuel storage tank removal, through to heating oil tank removal. Fuel and oil tanks can be positioned in a variety of locations, with buildings and premises often changing around them. The ever changing face of our commercial and industrial landscape has led us to develop methods to safely and efficiently remove fuel tanks and oil tanks from areas such as basements, garages and lofts.
Our high standards of professionalism and above all safety, have led us to decommission fuel and oil tanks from premises such as railway sites, prisons, military installations, local council properties and television studios. Tank sizes also vary, from a small 500 gallon heating oil tank behind a garage, to a large 50,000 gallon diesel tank in a purpose built room. No matter what the size, or location, we remove every fuel or oil tank to the same high standard, with safety being our primary focus.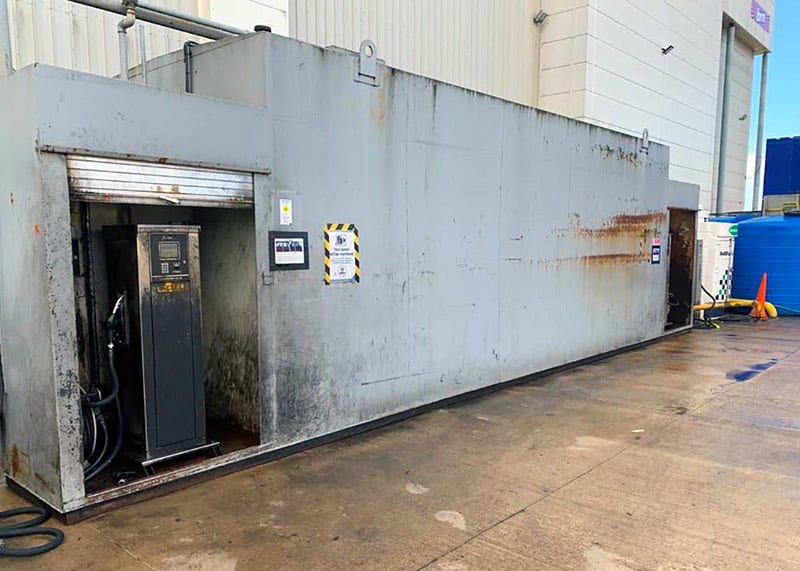 COMMERCIAL OIL AND FUEL TANK REMOVAL PROCEDURES
Our commercial oil and fuel tank removal procedures for above ground tanks allow us to offer a complete bespoke service from start to finish.
Following information gathering on your oil tank or fuel tank by one of our tank removal specialists, we will produce a schedule of work, incorporating an approved safe system of work.
The method used for the removal of your oil tank will depend on both the size of the tank and the location. Smaller oil tanks situated within a building can often be cold cut from their location, with the majority of tanks this size being removed within a day or so. 
Conducting a large scale oil tank removal from inside a building will often require the tank to be hot cut.
Our operatives are able to safely clean an oil tank to a standard suitable to allow for a hot works permit to be issued. The same operatives will then be able to cut the tank into suitably manageable sections to allow for safe removal.
Fuel tank removal where the tank is positioned outside can often be conducted with minimal disruption. Our operatives can drain your tank of residual product and with our extensive transport links, move your tank to our own waste transfer station to be cleaned and disposed of safely.
Whatever your commercial oil and fuel tank removal requirement, we have the flexibility and resources to provide you with a safe and cost effective solution. Feel free to get in touch for a no obligation quotation.
WHY CHOOSE US FOR YOUR OIL TANK REMOVAL?
For over 40 years we have been offering safe, reliable and cost effective petrol or diesel tank cleaning, oil tank cleaning, oil, diesel and petrol tank removal and tank disposal nationwide. Attracting a wide spectrum of clients from The Armed Services and Local Authorities, to the Construction Industry, Independent Petroleum Retailers and Domestic Households.
This really depends on the size of the tank and the location. If the tank is accessible with a lorry mounted crane, the process can be completed in as little as a couple of hours. If the tank is located inside a building, it could take longer as the cleaning and cutting process would need to be conducted on site.
This really depends on what type of tank you have, what grade of oil it has held and where it is positioned. Bunded diesel tanks may well hold a re-sale value which can be credited against the cost, where as heavy fuel oil tanks can often require heating and extensive cleaning which will impact on cost. Discussing your requirements directly with an engineer can immediately give you an indication on the scope of the work required.
Working with fuel and oil is a high risk sector and the consequences of negligence can be severe. By using our extensive experience, along with meticulous planning and careful execution, we are proud of our safety record. All work is conducted in line with a site specific safe system of work, accompanied by detailed risk assessments. Copies of all documents will be forwarded to each customer for inspection prior to commencing works, with signed copies being carried by our team throughout the job.