Commercial

Fuel Tank Refurbishment
Following an increase in demand, we are now offering a Fuel Tank Refurbishment service to enable customers to maximise the use from their existing infrastructure.
Like all our services, Fuel Tank Refurbishment can be tailored to your needs and requirements, from simply an external coat of paint, through to a complete overhaul including NDT testing.
Depending on your needs, we can either uplift your tank or conduct the works at your site. Then clean internally, install new or clean the required ancillary equipment, remove any rust, prime and then paint to a colour of your specification. All of which comes with regular reports and accompanying photographs.
All work is undertaken in-house
All our Fuel Tank Refurbishment work is carried out in-house which means we can answer any questions you may have throughout the entire refurbishment process from beginning, middle and end.
With the correct equipment and a safe system of work, we prioritise causing our customers minimal disruption and aim to complete our Fuel Tank Refurbishments to the highest possible standard, quickly and efficiently. Each job is different, that is why you can expect a tailored quotation and a safe system of work to suit your requirements.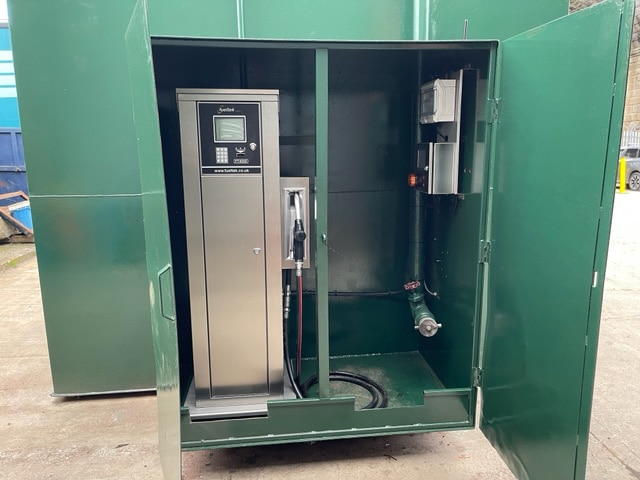 CONTACT US TO DISCUSS YOUR
FUEL TANK REFURBISHMENT
WHY CHOOSE US FOR YOUR FUEL TANK REFURBISHMENT?
For over 40 years we have been offering safe, reliable and cost effective petrol or diesel tank cleaning, oil tank cleaning, oil, diesel and petrol tank removal and tank disposal nationwide. Attracting a wide spectrum of clients from The Armed Services and Local Authorities, to the Construction Industry, Independent Petroleum Retailers and Domestic Households.
This will depend on a number of factors, including the size of the tank, if the tank is being cleaned internally as well as repainted, how much additional work such as NDT testing is being completed and of course the weather. As the majority of tank refurbishments are conducted externally, a degree of planning will be undertaken to minimise disruption should inclement weather be an issue.
The short answer is yes, however consideration should be given to the age of the tank, and level of corrosion that might have already been suffered. For larger tanks in particular, an inspection by a qualified EEMUA assessor and some NDT / MPI testing can give a very clear indication of expected remaining life. If the tank is in reasonable structural condition, a fuel tank refurbishment can save considerable amounts of money.
Whether the tank is refurbished on site or taken back to our premises really depends on the disruption that it might cause to your business. We've conducted fuel tank refurbishments on 120,000 litre tanks whilst they remain on site, yet we have also uplifted 35,000 litre tanks and conducted the works at our own site. At the quotation stage we'll ensure that a package is designed to suit your needs.